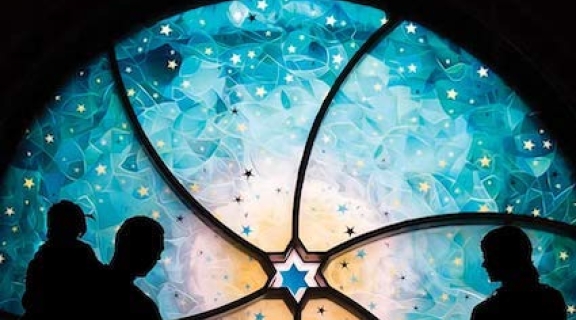 Feeling Jewish: A Launch Event for Beyond the Synagogue by Rachel B. Gross
Tuesday, January 12, 2021
Event Time
04:00 p.m. - 05:30 p.m. PT
Cost
Free and open to the public
Location
Remote access event
Overview
Prof. Rachel B. Gross in conversation with journalist Deena Prichep, moderated by Prof. Marc Dollinger.
Come for the artisanal delis, picture books, historic synagogues, and genealogy—and stay for the argument about American Jews and religion.
In Beyond the Synagogue: Jewish Nostalgia as Religious Practice (New York University Press, January 2021), Rachel B. Gross argues that nostalgic activities should be understood as religious practices, illuminating how many American Jews are finding and making meaning within American Judaism today.
Rachel B. Gross is Assistant Professor and John and Marcia Goldman Chair in American Jewish Studies in the Department of Jewish Studies at San Francisco State University.
Deena Prichep is a freelance print and radio journalist based in Portland, Oregon. Her stories on topics ranging from urban agriculture to gefilte fish have appeared on NPR's Morning Edition, Weekend Edition, and All Things Considered, The Splendid Table, Bon Appetit, Marketplace, Vegetarian Times, Salon.com, and The Oregonian. She is the author of Kachka: A Return to Russian Cooking (Flatiron Books, 2017).
Marc Dollinger is Professor and Richard and Rhoda Goldman Endowed Chair in Jewish Studies and Social Responsibility in the Department of Jewish Studies at San Francisco State University. He is the author of four scholarly books in American Jewish history, most recently Black Power, Jewish Politics: Reinventing the Alliance in the 1960s (Brandeis University Press, 2018).
Preorder Beyond the Synagogue directly from New York University Press and use code GROSS30-FM for 30 percent off.
Free and open to the public. Presented by the Department of Jewish Studies and cosponsored by the Jewish Community Library.
The Department of Jewish Studies welcomes persons with disabilities and will provide reasonable accommodations upon request. If you would like reasonable accommodations for this event, such as real-time captioning, please contact Rachel Gross at rbgross@sfsu.edu as soon as possible so your request may be reviewed.