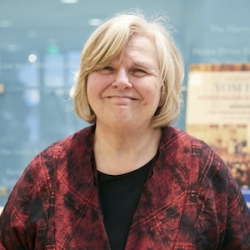 Kitty Millet
Professor, Department Chair
Phone: (415) 338-3154
Email: kmillet1@sfsu.edu
Location: Humanities 418
On leave Spring 2021
Editor, Comparative Jewish Literatures
Chairperson, ICLA Research Committee on Religion, Ethics and Literature
Education
1996, Ph.D., Comparative Literature, University of Minnesota
1989, M.A., Comparative Literature, University of Minnesota
1986, B.A., Comparative Literature, UCI
Academic Interests
Holocaust and Genocide Studies
Kabbalah
testimonio in Latin American Jewish Narratives
Jewish Messianism
Secular Jewish Studies
Modern Jewish Thought
Comparative Jewish Literatures
Courses
JS / Hist 317 - Holocaust & Genocide
JS / Hist 318 - Holocaust & Law
JS 410 / Phil 514 - Kabbalah & Jewish Mysticism
JS 425 / Phil 552 - Judaism, Religion and Text
JS 437 / CWL 437 / Engl 533 - Holocaust and Literature
JS / CWL/ Engl 451 - Jewish Literatures of the Americas
JS / CWL 480 - European Jewish Literatures
JS / WGS / Engl 546 Twentieth Century American Jewish Women Writers
Recent Publications
Books
Edited Volumes
Selected Articles
"Our Sabbatean Future." Eds. Miriam Zadoff and Noam Zadoff. Institute of Judaic Studies Review (Brill, 2018).
"Can the Holocaust Novel be a Magical Realist Novel? H. G. Adler's The Journey 'after Auschwitz'," Symbolism. An International Annual of Critical Aesthetics 12/13 (2013): 192-209.
"Jewish Aesthetics and the Birth of Humanism." The European Legacy. 17:1 February, 2012.
"The Victim as Mishnah." From Ritual to Romance. Comparative Literature and Comparative Religious Studies. Eds. Hajo Bäcke and Manfred Schmelling. Würzberg: Königshausen u. Neumann, 2011.
"A Thousand Queer Plateaus: Deleuze's 'Imperceptibility' as a Liberated Mapping of Desire." Rhizomes 11/12.fall 2005/spring 2006 (2005) : n. pag. http://www.rhizomes.net/issue11/millet.html
"Tikkun Olam: the Jewish Detective and Redemption." Transversalités. Volume 55, Issue #2. 2005. Ed. By Delphine Cingal. Paris: Institute Catholique, 2005.
Selected Book Chapters, Anthologies
"An Ethics for Missing Persons." Fault Lines of Modernity: The Fractures and Repairs of Religion, Ethics, and Literature. Eds. Figueira and Millet. Bloomsbury, 2018.
"Contemplating Jean Améry's Loss of Transcendence." On Jean Améry: Philosophy of the Catastrophe. Ed. by Magdalena Zolkos. Lanham, MD: Lexington Press, 2012.
"Caesura, Continuity, and Myth: The Stakes of Tethering the Holocaust to German Colonial Theory." Colonial (Dis)-Continuities: Race, Holocaust, and Postwar Germany. Eds. Volker Langbehn and Mohammad Salama. New York: Columbia UP, 2011.
"Elie Wiesel's Night and Dying in the Present Tense." Bloom's Literary Themes, On Death and Dying. Ed. Harold Bloom. New York: Chelsea House, 2009.
Website(s):