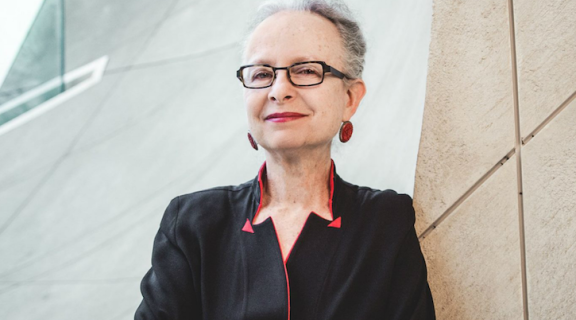 1000 Jewish Cookbooks: Yiddish Gems from a Personal Collection
Sunday, April 18
Event Time
02:00 p.m. - 03:00 p.m.
Location
Online access event
Overview
Presented by Barbara Kirshenblatt-Gimblett
Drawing from one of the largest collections of Jewish cookbooks in private hands, Barbara Kirshenblatt-Gimblett will talk about how she amassed more than 6000 cookbooks, of which more than 1000 are Jewish cookbooks, over the course of lifetime, starting in childhood. Focusing on the Yiddish cookbooks in her collection, she will explore what these cookbooks reveal about those who wrote them and those who cooked from them.
Barbara Kirshenblatt-Gimblett is Ronald S. Lauder Chief Curator, POLIN Museum Core Exhibition and University Professor Emerita and Professor Emerita of Performance Studies at New York University. Her books include Destination Culture: Tourism, Museums, and Heritage; Image before My Eyes: A Photographic History of Jewish Life in Poland, 1864–1939 (with Lucjan Dobroszycki); They Called Me Mayer July: Painted Memories of a Jewish Childhood in Poland Before the Holocaust (with Mayer Kirshenblatt); The Art of Being Jewish in Modern Times (with Jonathan Karp); and Anne Frank Unbound: Media, Imagination, Memory (with Jeffrey Shandler).
Kirshenblatt-Gimblett was honored for lifetime achievement by the Foundation for Jewish Culture, is a recipient of the Yosl Mlotek Prize for Yiddish and Yiddish Culture, and of honorary doctorates from the Jewish Theological Seminary of America and University of Haifa. She serves on Advisory Boards for the YIVO Institute for Jewish Research, Council of American Jewish Museums, Jewish Museum Vienna, Jewish Museum Berlin, and the Jewish Museum and Tolerance Center in Moscow, and is an advisor for museum and exhibition projects in Lithuania, Albania, Belarus, Israel, and the United States.
Co-presented by KlezCalifornia and Workers Circle/Arbeter Ring of Northern California.
This program is presented by the Jewish Community Library and co-sponsored by the SFSU Department of Jewish Studies